WHAT:  JAZZ AT THE SPRINGS – 20 YEARS!
WHEN:  Sunday, June 4, 2017 – RAIN OR SHINE!
WHERE:  Lawn behind Chester Springs Studio
                 (Inside The Studio Barn if raining)
TIME:  3 – 5:30 p.m.
COST:  FREE to the publicTHIS SUNDAY! – JOIN US FOR JAZZ AT THE SPRINGS – 20 YEARS!  That is Sunday, June 4, 3 – 5:30 p.m.  We are excited to be celebrating our 20th year of great jazz, a great place, tasty treats and beverages and a relaxing day to sit back and enjoy your visit to Yellow Springs.   AND YES – 20 YEARS OF BALLOONS!Plan to meet on the lawn behind the Chester Springs Studio Barn – RAIN OR SHINE! 
(In the case of rain, we will move inside the Studio Barn.)
We will have Grammy Award nominated producer and drummer GLENN FERRACONE AND FRIENDS
to entertain us as they have done for many years.  Glenn presents the best in jazz that combines his music with the beauty of the landscape.  The sound doesn't get much better!The Cedar Hollow Inn will be serving their delicious
pulled pork sandwiches!
So, spread out your blankets, set up your chairs, bring your picnic basket and sit back and relax and enjoy the afternoon.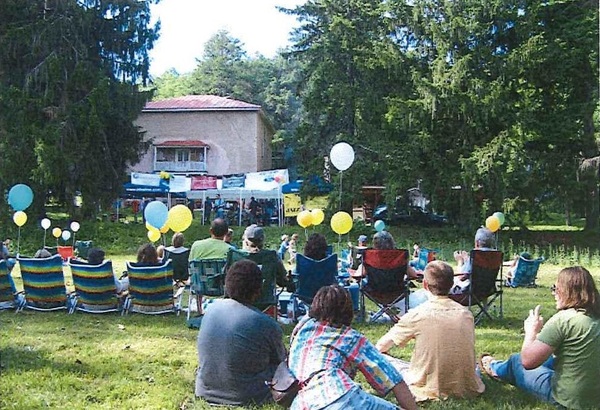 CERAMICS STUDIO PART OF JAZZ AT THE SPRINGS
An exciting part of this Sunday afternoon at the Springs is the community firing of the Chester Springs Studio Wood Kiln.  Matt Wren, our Ceramics Studio Supervisor, will be on hand to discuss the wood kiln and its application to ceramics firing.  The process is a multiple day event including loading the kiln, the firing and then the unloading.  The kiln must be monitored constantly to maintain the proper temperatures and wood added to the fire to do so.  Our wood kiln is gaining recognition in the region and many other art studios are renting the kiln for their own firings.At the ceramics studio you will be able to see wheel throwing exhibitions.  We invite you to explore the art of ceramics and encourage you to consider signing up for a ceramics class in our summer session.  There are classes for beginners as well as experienced potters.  Let us help you find a class just for you.
We will also have an array of pottery that is available for purchase.  Our faculty and staff donate these wares and we have some extraordinary pieces for you to own.  All monies from the sales of this pottery will be used by the Ceramics Studio to support its work.
THANK YOU BOB WILLSON
We thank HYS Board member Bob Willson who initiated Jazz at the Springs 20 years ago and continues to chair this event with his outstanding committee.  We thank committee members Glenn Ferracone, HYS Board member Steve Cottone, Staci Cottone, and Sheryl Willson.  We also thank area sponsors, some for 20 years also, for their generous and continued support that allows HYS to bring Jazz at the Springs to you.  Check out our website for full details.  www.yellowsprings.org