HISTORIC YELLOW SPRINGS SADLY ANNOUNCES THE PASSING OF ELAINE D. ORR 1945 – 2017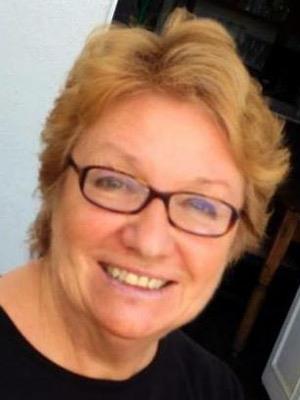 Elaine Orr became a member of Historic Yellow Springs in 1978 shortly after she moved to Chester Springs.  She joined the Board of Directors and become president of the Board for the first time in 1980.  She was to serve a total of three terms as president over the years.  When not president, she worked diligently as a Board member and volunteer, chairing and serving on all committees.  She was the epitome of TIME, TALENT AND TREASURE.
Elaine worked closely with then Executive Director Sandy Momyer and together they weathered many successes and challenges.  The permit to build our large parking facility was secured after three year's deliberation with the community.  Together Elaine and Sandy wrote the state grant to secure a loan to rebuild our sewer system.  Our first open space easement was established.  And, Elaine worked hard in rehabbing our wonderful historic buildings, growing our programs and events, upgrading our organizational functions, and just keeping HYS alive and moving forward.
There are many wonderful stories and pictures of Elaine at HYS doing everything from painting rooms, gardening, cooking, Frolicking in the meadow, presiding at meetings and so much more.  Elaine was ready for any obstacle.  She would sit down, analyze the situation and then come up with a plan to move on – which always worked!  She enjoyed telling the story of her first day as president of the Board in 1980 when she opened a piece of mail. It was a foreclosure statement on the Yellow Springs property from Girard Bank.  HYS had loans from several Philadelphia banks and financing was difficult in those early days.  She responded by taking the notice to previous president John Yerkes and the two of them proceeded to get an appointment with the bank, drive to Philadelphia and resolve the issue.  HYS was saved!  This was her indoctrination to HYS and throughout her time at HYS she continued to step up and solve its problems.
Elaine Orr and Art Show Chair Esther Altmann are prepared to host one of our art shows in years past.
The art show became Elaine's favorite event and for many years she served as founder Esther Altmann's right hand person before becoming chair herself in 1991.  Her management skills were strong and she worked to reconfigure the Lincoln Building galleries to accommodate additional art work.  Elaine is well known for her hanging skills which she taught to novice committee members.  When not chairing, she continued to support of new chairs with her talent and expertise until she moved from the area.  She did, however, continue to support the show by attending the Gala Opening each year.  Her home was full of HYS art which she loved.
Elaine is survived by her two sons:  Gustav A. B. Orr III and Jacob W. Orr and their families.  Originally from northern New Jersey, she began her career as a chemist with the General Electric Space Center before moving to our area and raising her family.  She moved to New York City in 2002 where she lent her talents to the Central Park Zoo, the American Museum of Natural History, and the Volunteer Referral Center.  She recently moved to Milton, DE, where she was active in the Mid-Atlantic Jack Russell Rescue Association.
Elaine's sons are planning a Celebration of Life Memorial for Elaine and we will notify everyone when final details are completed.  They have requested that memorial contributions be made in Elaine's name to Historic Yellow Springs, P. O. Box 62, Chester Springs, PA   19425.
We know that you share in our great loss of a friendly, wonderful, generous, professional, hardworking and strong woman with a great sense of humor, who has served HYS so well over the years.  Much of what we love in the village, Elaine made possible.  Recently during Women's History Month in March, HYS initiated a series on the women who have been influential in the village of Yellow Springs and a source of sustainability over many years.  Elaine D. Orr certainly joins that Hall of Fame as her work here will be felt for all time.
Thank you, Elaine, for all you have done for HYS.  Your spirit is with us always.